Or, what I plan to sew and may not get to 😉
Ginger Flares

I already love Heather, but she gets extra squeezes for saving me from trying my own attempt at modding the Ginger pattern. I have chunky platforms all ready to go with these in the spring.
I love the swing top variation of one the patterns in this book and cannot stop thinking about all the cute outfits I can make with it (see flared and regular Gingers!). I'm also toying with the idea of the sleeveless blouse done in a classic white. I'm not generally a real shirt person once it gets hot, but I can't deny the utility of the garment in a work wardrobe.
Speaking of preferences:
tees will always be high on the list. It seems like all my favorites have gone missing or have worn out. I need new ones as of yesterday. Tons of Larks on deck.
Pauline Alice extravaganza. I really love all of her patterns (my love for Malvarosa is well documented, I already have another cut and ready to sew).
I just noticed this new, free, addition to her shop. How versatile is this baby? 90s slip dress dreams can come true in 2016.
Culottes a-go-go.
There are so many pattern to choose from. I already own this style, the Girl Friday Culottes, and Tania from Megan Nielsen.
Something jacket-y. A Tamarack. Or maybe another BHL Victoria jacket is a looser silhouette.
Or maybe Sydney or Tokyo from Tessuti. I've been in love with Tokyo since Sallie made it. And Sydney would be so cool for those early cool-ish spring days.
Also on the make list: cool & transitional dresses.
I made a version of this Mociun tie front dress years ago. When it was quite literally all the rage. At that time my sewing skills were minimal and my size smaller, lol. I'd love 5 or 6 of these to see me through spring, summer and fall.
  I have an almost complete Alder that I think is too small. I still have my heart set on adding a few to my closet. Especially those bottom heavy friendly version.
I test sewed Giselle and have always wanted to make a chambray maxi length version. For those 'cover the legs' days.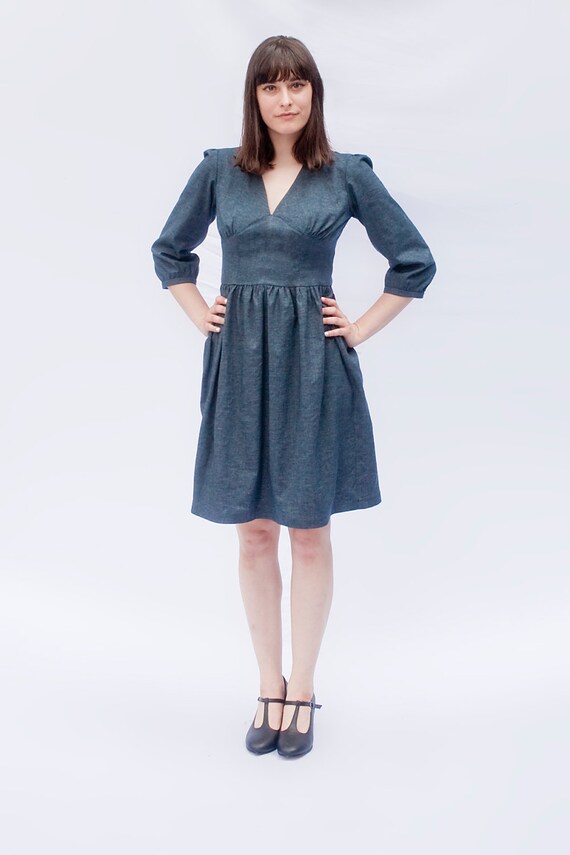 Anything from this book will work for hazy summer days and in fall when layered up.
I do have some pre-spring projects in mind, like this skirt. I have some faux leather and black wool and I'd like to use a Seamwork pattern to make it up.
 And the dress below based on Butterick 6169 (the same pattern as my moto jacket) has always appealed to me.
So, 16+ over the next 11 months. Doable? Let's see.